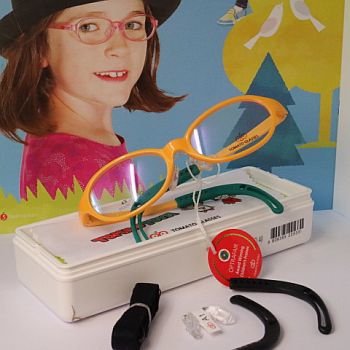 Kids eye wear manufactured to grow with your child. This unique designer of spectacle frames has arrived with a novelty concept of having extendable arms ,which can be lengthened as the child grows.These temples have microscopic rivet-type screws which will lock the temple width in place,exactly where you need it.Further to the point as the nose ridge develops the nose saddle or pads can be exchanged or removed to accommodate the child's facial contours.We think this is a really cool design.To enhance the comfort behind the ears ,temple tips are soft rubber -material, a big issue with a lot of troopers.They need to be comfortable.
Why Choose these Frames?
Well childrens ongoing wardrobe demands can be heavy on the pocket.Eye wear is no exception!The anticipation is the frame may last for few years.They are a comfortable fit.
Any Recommendations?
From our experience they work well for children in the 6-12 age group.The collection has a range for younger kids as well.Even toddlers.