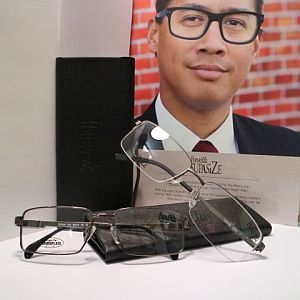 Supersize Frames are not the most commonly searched after item. Let face it, you don't have to be of the standard mould to have great spectacle frames. You may have gotten  worn out shopping for  clothes or eyewear, simply because you are of a different built! We understand the feeling.This is why we have outsourced this large style frame collection.
The eye size of these is beyond the common 56mm size. It is made in 60mm up to 65mm. May not seen like much but consider each eye size is 7mm larger, and nose spacing is also 4mm larger ,so you total width measurements are approx 18mm wider.Not bad whilst maintaining nice frame aesthetics.
So next time you are fatigued from looking for large frames,give our practice some thought.